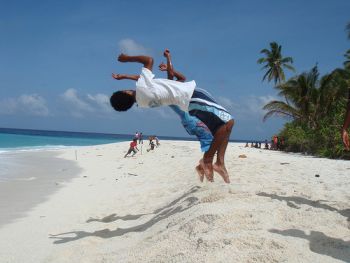 Sri Lanka is a teardrop-shaped island lying in the Indian Ocean off the southern tip of India. More than 1300 km of sandy beaches meet the tropical seas whilst a lush, green and mountainous interior contains stunning scenery and an array of exotic wildlife. With temples, tea plantations, jungle and beaches Sri Lanka has something for everyone. Everywhere you go, you will be met by friendly and welcoming people who are proud of their country and keen for you to learn and love its charms.
If you are looking for a sun, sand and sea holiday then Sri Lanka is blessed with many paradise-like beaches, just make sure you avoid the country's two annual monsoons. If you are visiting the popular south west of the island for a beach break then travel between November and March to avoid the rains. Having some of the best weather then, makes Sri Lanka a perfect destination to escape the chilly British winter.
The palm tree-fringed Sri Lankan beaches are unspoilt and uncrowded making them ideal for a relaxing holiday of reading and swimming. If you can tear yourself away from the sun lounger then a range of watersports is available for the more energetic. There are also hundreds of dive sites around the coast where you can explore shipwrecks, coral reefs, caves and rock formations.
Venturing inland, Sri Lanka has an abundance of wildlife and visiting the island's safari parks and sanctuaries is the best way of trying to spot as many species as you can. Yala National Park, which covers 1297 sq km, is one of Sri Lanka's most popular tourism destinations because of its variety of wildlife and amazing coastline. Here you can see leopards and herds of Sri Lankan elephants. Yala is thought to have more than 30 leopards and your best chance to see one is generally early in the morning and then again at dusk. Visitors can stay in the park until just after dark to improve their chances of seeing a leopard.
Deer, buffalo, jackals and the sloth bear also inhabit the park whilst crocodiles live on the coastline and marine turtles nest on the beaches. Skyward, more than 120 species of bird life can be found here. The best period to see the wildlife is during the dry season from January to May. This is when the animals cluster around sources of water, making them easy to spot and photograph.
Animal lovers will also want to make sure they visit the Pinnawela Elephant Orphanage which was established in 1975 to look after orphaned baby elephants that were found in the wild. Visitors can observe the animals bathing and playing and watch the elephant calves being bottle fed.
A trip inland gives you the opportunity to glimpse more of Sri Lanka's colonial past and visit one of the many tea estates. Nuwara Eliya, 180 km from the capital, Colombo, is the country's highest town and was a favourite hill station during British rule. It is still known as 'Little England' and you can even find a racecourse, golf club and trout fishing here. The rolling tea plantations produce some of the world's finest tea, hand plucked by local women and are a vital part of the country's economy. You can visit a tea factory to see how the tea is processed using methods largely unchanged since Victorian times.
Another must-see stop is the historic city of Kandy, a UNESCO World Heritage Site and capital of the hill country. Its famous Temple of the Tooth is the most sacred Buddhist site in Sri Lanka and where a tooth which belonged to Buddha is kept. You won't have to be a train enthusiast to enjoy the hill country train ride from Kandy to Nan Oya. Travelling through tea plantations, pine forests and ravines, this is understandably regarded as one of the finest railway journeys in the world. As well as giving amazing views, it's also a very practical way to get around.
If you are looking for raucous nightlife then Sri Lanka probably isn't the place for you but hotels have bars where you can relax in the evening and entertainment. The only international airport in Sri Lanka is close to Colombo. You can fly there direct from the UK or via the Middle East, other parts of Asia and India.
One of the best ways to get around the island is to hire a driver. He can also act as tourist guide and take you to the must-see tourists spots as well as some more off the beaten track delights.
The civil war (now ended) and the 2004 tsunami devastated some parts of Sri Lanka but tourism is playing an important role in helping the economy to recover and rebuild and the country is definitely open and welcoming to visitors.
Popular Sri Lanka Destinations