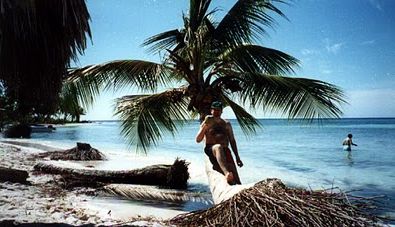 Located on the west coast of Africa, The Gambia has long been popular with European visitors, especially British for a long time now, due to the relatively short flight and superb climate. It provides the perfect winter get away for people who wish to escape the poor weather. Rest and relaxation awaits, with the choice of small, friendly beach located hotels to 5 * luxury resorts. There is something to suit every budget. Fantastic beaches and a warm welcome awaits all visitors. No wonder the Gambia enjoys a large volume of visitors who return each year.
An ideal winter sun getaway, temperatures are high and rain is virtually unheard of from November right through to June. During the summer, brief but heavy showers transform The Gambia into a blaze of greens and tropical flowering trees, nevertheless it has grown in popularity with those looking for a tranquil alternative to the crowded resorts of Europe.
The Gambia is one of the smallest countries in Africa, situated on the unspoiled west coast on approximately the same latitude as Barbados. Mostly flat, the country is dominated by the majestic River Gambia from which it takes its name. A sub-tropical climate, fantastic culture, magnificent wide sandy beaches and some of the friendliest people on earth add up to a great holiday destination. The Gambia is not for everyone, as the pace of life is unhurried, but many people get hooked, returning year after year.
Many people think that The Gambia is a destination which is very much hotel based but this is not true. Although nowhere near as large and overdeveloped as you would find in somewhere like, The Canaries, most of the resorts do have a taxi rank, bank and exchange bureaus, telephone centre, supermarkets, craft market, bars and restaurants. The Gambia is generally busier in the winter months than the summer. All Gambia resorts are easily accessible and it only takes 20 minutes in a taxi to get from Banjul to Kololi so it is possible to stay in a quiet resort and easily get a taxi to a more lively one.
The liveliest resort is Kololi. The 'strip' as it is known locally, consists of a number of bars and a couple of nightclubs, busy with both locals and tourists. With over 30 restaurants serving a variety of cuisines plus 2 casinos, bank & exchange bureaus, internet cafes and shops. The resort is mainly relaxed during the day but comes to life on an evening through till the early hours.
Another resort popular with European guest is Kotu. This is a developing resort area with a cluster of new bars and restaurants, although it remains more low key than Kololi. There is a nightclub and a few beach barss. The beach is ideal for families as it is flat and sandy.There is also a golf course nearby.
The majority of visitors prefer to spend their days relaxing in the sun, however there are a wide variety of activities ranging from fishing to golf. Some hotels offer sports suchas tennis, volleyball,squash and table tennis. Deap sea fishing and whale watching trips can also be arranged by many hotels. Whether you just want to relax and do very little or be more adventurous and sample all that The Gambia has to offer, the choice is yours.
The Gambia's currency is the Dalasi. This can vary in value a lot and is best obtained from the airport on arrival, your hotel, bank or bureau de change. Some restaurants and hotels do accept credit cards, the general rule is that it is not wise to rely on them.Debit cards are not accepted. It is in general advised to just use local currency.
The Gambia is just one of many countries where the risk of contracting malaria is very real but is avoidable provided adequate precautions are taken. We advise that you contact your GP before traveling who will prescribe the appropriate medication. Although no inoculations are compulsory for entry from the EU, anti-malerial tablets are recommended.
Gambia Resorts