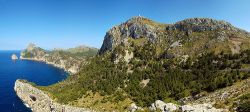 The Balearic Islands in the Mediterranean Sea consist of beauties such as Mallorca, Menorca, Ibiza and Cabrera to name a few. When you are there be prepared to be wooed by the beauty, history and entertainment that the islands have to offer.
Sunshine during the day there makes for great weather to go sunbathing or perhaps for a warm water swim. In addition the Balearics is never short of bays, coves and picturesque landscapes. If you are in the Mallorca (also called Majorca) area, check out the history of this island at Mallorca Museum, which is situated in an old mansion.
At this museum is a myriad of history that takes you through Moorish ceramics to Gothic panels and even spiritual symbols. Elsewhere in the Balearics is Cabrera, an island that is known for its marine ecosystem and a wide variety of birds. Other activities include golfing and an active nightlife.
Balearics Holidays